Where to Buy a Riccar Vacuum
When you're ready to find where to buy a Riccar vacuum, visit our Find a Retailer page. When you enter your address, zip code or city and state, then click "Search", the map will display Riccar retailers who are within the search radius you selected. Some retailers have an icon next to their store names. Here's what the icons mean.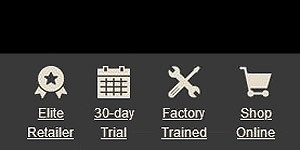 Elite Retailer
This award ribbon icon means the store location has a full line of Riccar products. While the store may not carry every vacuum or accessory Riccar offers, you'll find a solid selection of uprights, canisters and specialty vacuums.
30-Day Trial
The calendar icon means the store offers a 30-day return policy on a Riccar vacuum that doesn't meet your expectations. Riccar retailers are independently owned, and not all stores have a return policy. The retailers who go the distance offer the 30-day trial because they're confident not just in Riccar vacuum quality but also in their ability to match you with the perfect vacuum. Program details are available from the store.
Factory Trained
This tools icon means the retailer has successfully completed training courses on our products. Our education program, along with personal visits from Riccar representatives and support from Riccar's service technicians, has helped them thoroughly understand Riccar vacuums, be able to demonstrate, repair, troubleshoot and match a product to a customer's needs.
NEW! Shop Online
This shopping cart icon means the retailer sells Riccar products online. If you only want to find online retailers, click the checkbox that says "Only show stores that sell online."
Back to Retailer Locator