SupraLite and Gem go together like ice cream and hot fudge. While the SupraLite makes cleaning carpet sweet and easy, the Gem is the perfect complement because it cleans everything else.
Here's the scoop.
The SupraLite was made for deep cleaning carpet. It cleans all types of floors, but carpet is its sweet spot. All Riccar SupraLite machines weigh between eight and 11 pounds, and most of its weight comes from its powerful motor in the nozzle and large fan to move air. Cleaning performance requires both suction and airflow, and the SupraLite has both. The rest of the machine was optimized for the lightest weight without sacrificing durability.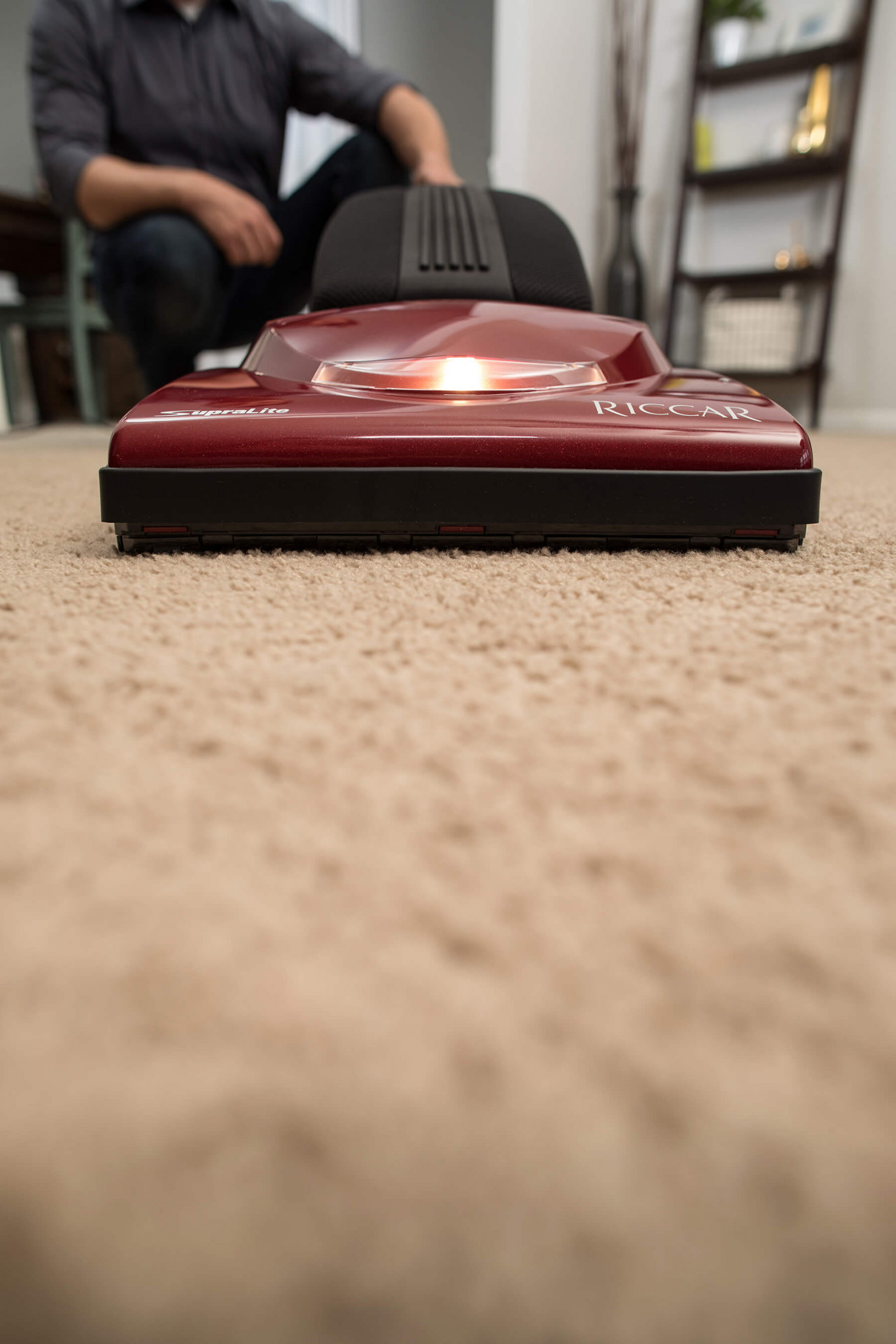 Why buy a SupraLite?
1. Tough Body, Smooth Ride
The SupraLite lightweight vacuum cleaner uses molded ABS plastic in the nozzle. It's the same material used in football helmets. The bottom plate is polycarbonate, an impact-resistant and lightweight plastic. SupraLite features a metal reinforced pivot stop and metal in other high-wear areas. SupraLite isn't just strong; it's also a delight to use. Turn it on and hang on, because the aggressive motor and brushes are ready to clean. It's not self-propelled, but its design almost makes it feel that way. SupraLite make quick work of vacuuming.
2. Easy on the Eye
Riccar vacuums have to look as good as they perform. We pay extra attention to every detail, whether it's in design, molding or materials. High-quality molding in our own facility keeps the seams smooth. We pay close attention to every curve, and we've combined textures and materials to be aesthetically pleasing. While you probably won't notice this when you vacuum, at some point your mother-in-law may open your closet and ask, "What is this gorgeous beast?!" There's the cherry on top.
3. Gets Every Last Bite
Some vacuums blow dust on bare floors. Like a dripping ice cream cone, we thought that was a crime, so we added a rubber squeegee to several models to corral and remove dust. All SupraLite models have front and side edge cleaning. Along these lines, most SupraLite models feature a self-sealing HEPA media bag to capture particles both big and small.
4. Pampers Floors
When you transition from cleaning carpet to hard wood, you don't want the first thing to touch your wood to be metal, which can scratch. That's why Riccar designed most SupraLite models to protect your floor, using six rubber wheels including two small wheels up front. There's no metal hitting your threshold.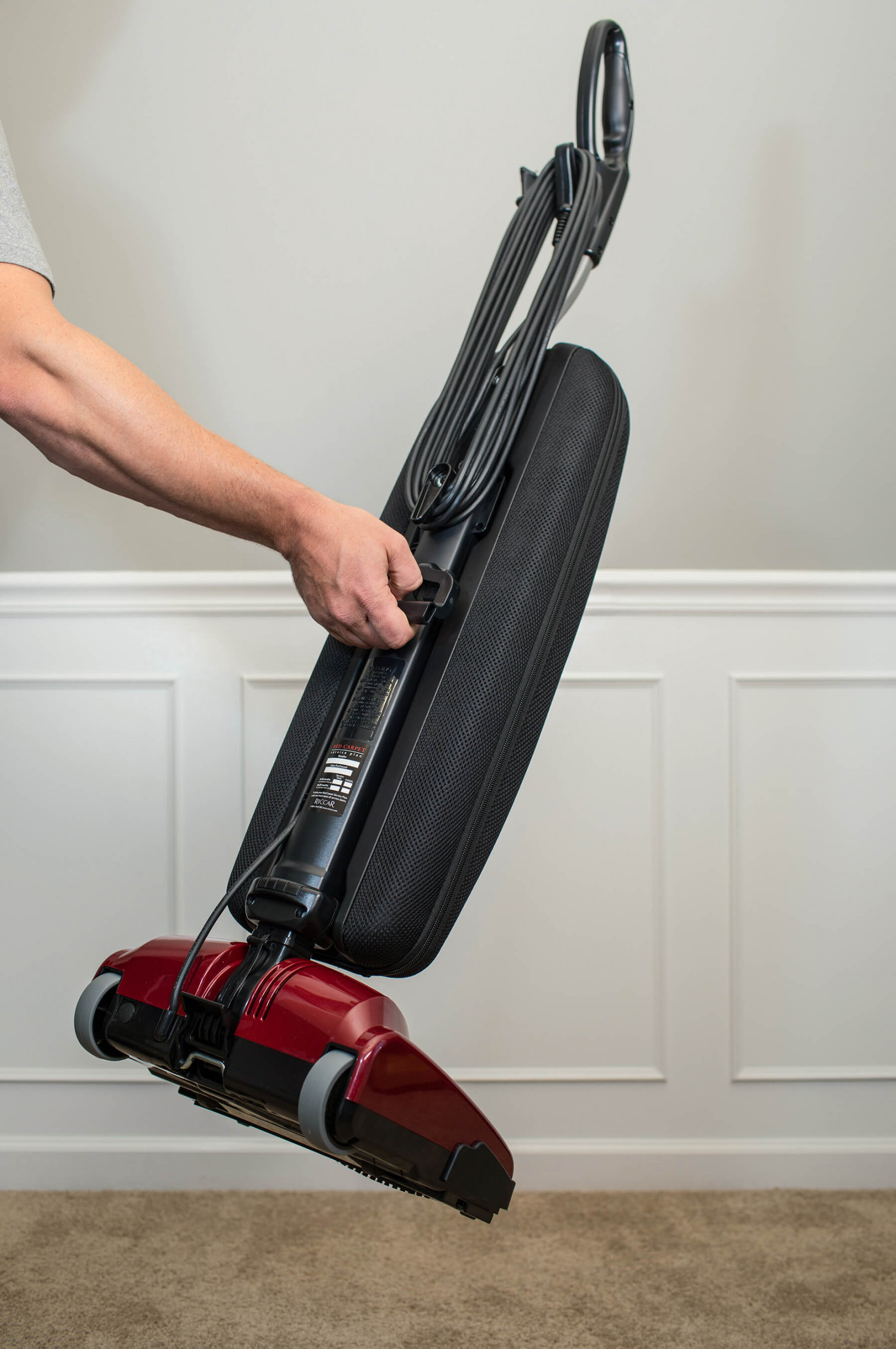 Flavors of the SupraLite
RSL1AC Commercial is made for commercial cleaning and is equipped with a wood brushroll, a soft cloth outer bag and a three-wire commercial power cord. With one speed, it weighs just eight pounds.

R10E Entry is similar to the RSL1AC but is a household model with a longer warranty and regular household power cord.

R10S Standard features two speeds, a rigid outer bag and a Deluxe Touch rubberized handle grip that has been over-molded to the hand tube for durability. On the nozzle you'll find a metal brushroll with replaceable brush strips and a squeegee for bare floor cleaning. The R10S also uses the self-sealing HEPA media bag system. The R10S lays flat to vacuum under furniture.

R10P Premium, at just nine pounds, is the crème de la crème of ultra-light vacuums, with a lifetime belt, 40-foot cord, a longer warranty and the Very Important Vacuum service plan for regular free maintenance from participating Riccar retailers.

R10CV Cordless is almost in a class by itself. With a powerful 44-volt battery, it's quieter than the other models and features an ultra-bright LED headlight.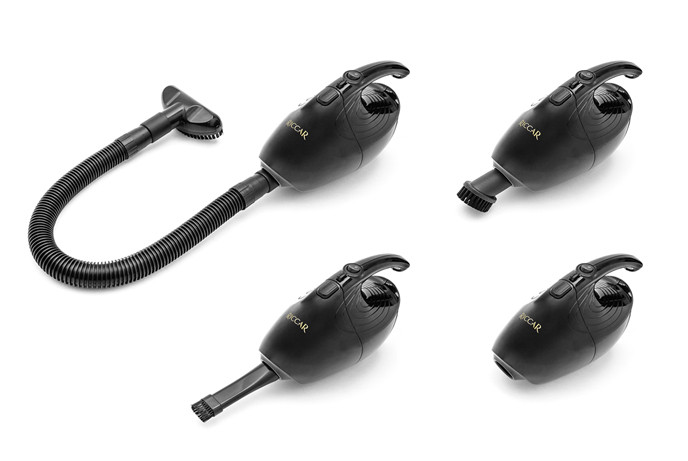 The Gem (Hot Fudge)
Now let's look at the Gem handheld vacuum with attachments. With its flexible hose and tools, it's ideal for cleaning countertops, sills, car interiors, shelves, upholstery and most other places the SupraLite won't reach.
The Gem has three main configurations:
Standalone – It's powerful enough pick up a dry cereal or rice disaster in the kitchen.
With tools directly attached to the mouth – Use the stiff bristled brushes to loosen dirt or hair.
With the hose and tools – Extends the cleaning reach and makes it easier to control cleaning by holding the tool where it connects to the hose.
Even if you don't need the Gem, it makes a great gift for a college student, a teacher, a crafter or woodworker, a car enthusiast who likes to keep the seats and floors clean, parents, grandparents, bachelors and even your neighbors. There's always the charity auction donation too. Whether you keep it or give it away, the Gem makes a perfect complement to a SupraLite.